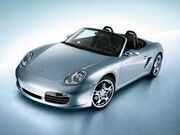 The Porsche Boxster is a mid-engined roadster built by Porsche. The Boxster is Porsche's first road vehicle to be originally designed as a roadster since the 550 Spyder. The first-generation Boxster (the 986) was introduced in late 1996; it was powered by a 2.5 litre flat six-cylinder engine. In 2000, the new Boxster S variant was introduced with a larger 3.2 litre motor, and the base model received a more powerful 2.7 litre engine. In 2003, styling and engine output was upgraded on both variants.
Ad blocker interference detected!
Wikia is a free-to-use site that makes money from advertising. We have a modified experience for viewers using ad blockers

Wikia is not accessible if you've made further modifications. Remove the custom ad blocker rule(s) and the page will load as expected.