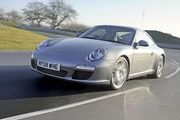 porsche 911 type 997
In 2005, the 911 was heavily revised and the
996's
replacement, the 997, was unveiled. The 997 keeps the basic profile of the 996, bringing the
drag coefficient
down to 0.28, but draws on the 993 for detailing. In addition, the new headlights revert to the original bug-eye design, drifting from the teardrop scheme of the 996. Its interior is also similarly revised, with strong links to the earlier 911 interiors while at the same time looking fresh and modern.
Ad blocker interference detected!
Wikia is a free-to-use site that makes money from advertising. We have a modified experience for viewers using ad blockers

Wikia is not accessible if you've made further modifications. Remove the custom ad blocker rule(s) and the page will load as expected.