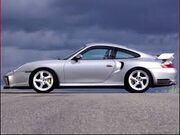 porsche 911 type 996
After 34 years in production the famous air-cooled 911 was replaced by an all-new
water-cooled
model. Known as the Type 996, this car was a major leap for Porsche, although many of the traits that defined the 911 during past decades still remained. With the new model there was finally a newly designed bodyshell (all previous 911s being based on the original 1963 shell) and a new headlight design. the headlights of the 996 were critisized for looking like the headlights of the porsche boxster.
Ad blocker interference detected!
Wikia is a free-to-use site that makes money from advertising. We have a modified experience for viewers using ad blockers

Wikia is not accessible if you've made further modifications. Remove the custom ad blocker rule(s) and the page will load as expected.